Solutions for worldwide access or local network access.
1.
We will host your forms on our site. You log in with your User Name and Password for private access to your own forms.
Pricing
2.
You can develop a custom application using any 32-bit container application (VB, VbScript, JavaScript, Lotus, Delphi, C++ etc.) for your web site, or PC / Network environment, using our Software Development Kit (SDK) below. The SDK includes the Form Designer, Form Filler, Sample Applications and Documentation.
3.

A complete turn-key enterprise level network Form & Workflow solution utilizing PerfectForm technology is available for installation on your Intranet/Internet IIS server. This application is specifically designed for large single and multi-location environments requiring form access, management, storage, database linking and email functionality.

References and demonstrations available:

Enterprise Server Specifications (pdf)


Pricing
Product description:
PerfectForm allows you to create, publish and manage identical versions of your business forms right in Internet Explorer, Netscape or any 32-bit container application. PerfectForm provides full intelligent form functionality and true WYSIWYG web enabled electronic business forms on the Internet or your intranet.

PerfectForm is the ultimate application for electronic business forms management and distribution, with minimal hardware, memory and storage requirements.

PerfectForm streamlines your work process by providing true WYSIWYG and ODBC compatible electronic forms in a user friendly customizable interface. PerfectForm easily links your business forms to your ODBC compliant database and forms may be emailed.faxed and exported (.tif) to document management systems.

PerfectForm can be custom designed to meet your business needs. Whether Internet, Intranet, Network, single PC or a Mobile Computing environment, PerfectForm is your electronic business forms solution. We can host your forms on our web site, or Perfectform can be installed on your internet server for your own site. A Software Development Kit (SDK) is available for custom applications, including source code.. Application developers are also available to assist you.

PerfectForm is ideal for Government and Law Enforcement agencies with paper-based, form intensive environments under the Government Paper Elimination Act (GPEA). PerfectForm allows incremental implementation of a workflow automation process without substantial investment in hardware, software and support.

PerfectForm demonstrates the ultimate in electronic forms development, access and management. PerfectForm illustrates the interactive capability of the computer with the visual power of forms, using a web browser interface, Visual Basic, or C++ application. PerfectForm access requires only a web browser (MS Internet Explorer or Netscape Navigator) to make forms access as easy and close as the Internet, or your own intranet.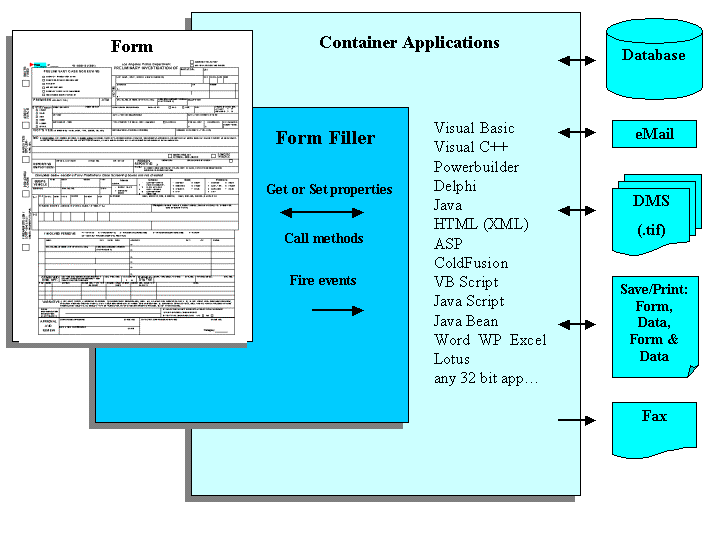 Software Development Kit - SDK
For custom solutions, the Software Development Kit (SDK) components consist of:
Full documentation and sample applications for Visual Basic, C++ and web page application development.


Both 16 and 32 bit Form Filler application engines.


An ActiveX / OCX control for Microsoft IE and plug-in for Netscape browsers allowing interactive completion of forms on a web browser.


A Forms Designer for creating true WYSIWYG intelligent forms.


A library of 100+ ActiveX methods and event handlers for file handling and data control.

Click here for SDK Filler Download or Trial & Test Agreement
(SDK requires a license agreement and password)
Contact us for additional information
existing users: click here for Filler update
Workflow automation is the wave of the future. PerfectForm is the conduit that can provide a practical and productive workflow automation process for your organization. We invite you to contact iSolutions to discuss capabilities and features of PerfectForm, your workflow automation solution.
PerfectForm vs. FormFlow
Comparison Chart
PerfectForm
FormFlow 2.x
Web-enabled Filler
(Fill & Print)
Yes - Incl. Visual Designer, Unlimited license.
NO
Reader
(View & Print)
YES - Visual Reader FREE for Distribution
NO
OCX/ActiveX Control
(Component)
YES - True ActiveX @500 kb
NO
API (16 & 32-bit DLLs)
YES - Visual Forms SDK
NO
Plug-in
YES - @ 500k includes Source Code (C++)
NO
Print/FAX /Archive Batch Merge
YES - Visual eMerge and SAPMerge
NO
Filler - 16/32 bit
YES/YES
YES/NO
Size
(Kilo Bytes)
450 - ActiveX, Plug-in, Filler, Reader
3,000+
Imports FormFlow 1.x & 2.x forms
YES - .frp converter included with designer.
YES
Zero Administration
YES
NO
Y2K compliant
YES
YES
Printer/Fax independent
(i.e. forms designed at any resolution can print at same or different resolutions)
YES
NO - can only print correctly at the resolution the forms are designed at.
Supports Shrink-to-Fit text
YES
NO
Can Lock/Hide Individual Fields
YES
NO
Supports variable length fields.
YES - automatically generates addendum sheets with references.
NO
Auto Form Conversion
YES - (Service)
NONE